New Moon in Virgo: Healing Across All Time and Dimensions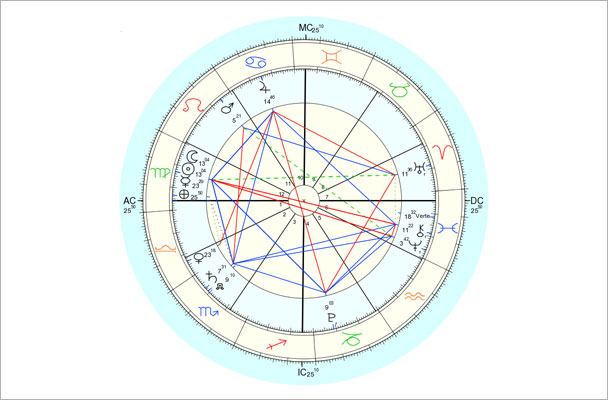 Happy New Moon in Virgo, the time of the year when we plant our seeds for new beginnings that support healing, wellness, purity, discernment, organization, and mastering the practical. This new moon is exact at 7:36 am EDT and 13 degrees of Virgo.
Now that we've moved out of the crucible of August's cardinal grand cross, this new moon seems benign in comparison. But make no mistake, this is a powerful new moon, falling in the healing sign of Virgo and opposing Chiron in Pisces. In fact, over the last few days, as the Sun made its annual opposition to Chiron in Pisces, I noticed a lot of deep spiritual wounds coming up to the surface for healing. I even saw manifestations of the Chiron archetype everywhere I looked — people in wheelchairs or braces (more so than usual) and people with persistent wounds that they struggled to heal, wounds that often had past life connections.
New moons don't have the in-your-face energy of full moons — they are quiet and subtle, marking the start of a new cycle. However the opposition to Chiron by the Sun and Moon evokes the visibility of the full moon. We're are seeing our wounds quite clearly right now and so the focus of this new moon is that of healing — healing that crosses all time, dimension, lifetimes, and healing without barrier. What is it that you're being confronted with right now? Chiron in astrology represents core level programming, the root or the key to all the energy patterns that you carry.
With the Virgo New Moon, you're being given a powerful opportunity to heal and begin a new, especially with a supportive sextile to Jupiter in Cancer and a trine to Pluto in Capricorn, which in turn plugs us into the paradigm busting power of the Uranus/Pluto square. Like I said, don't underestimate this new moon.
I love the energy of Virgo. It's so no nonsense. And with the Virgo New Moon, it takes the often abstract or hidden energy of Chiron in Pisces and brings it into the physical. If you're suddenly seeing the things that need healing in your life, it's because the Sun and Moon in Virgo are acting like a lens for Chiron, honing in on the practical medicine with a high level of skill and discernment.
Lurking in the background is Mars in Leo squaring Saturn and the lunar nodes in Scorpio/Taurus. This is healing that isn't unicorns and rainbows. It's belligerent, putting us on the defensive, and it's painful. Sometimes we have to confront our Chiron wounds because we have no other choice. Sometimes healing comes out of crisis. We're at a crossroads with this new moon. Use it to zero in on the medicine and to begin anew.
Enjoyed this post? I also do private, one-on-one consultations via Skype and phone, which allow us to delve into your chart and reveal where this new moon will manifest. Go to my consultations page to book your session. Check out my testimonials and FAQ to learn more about what I do.